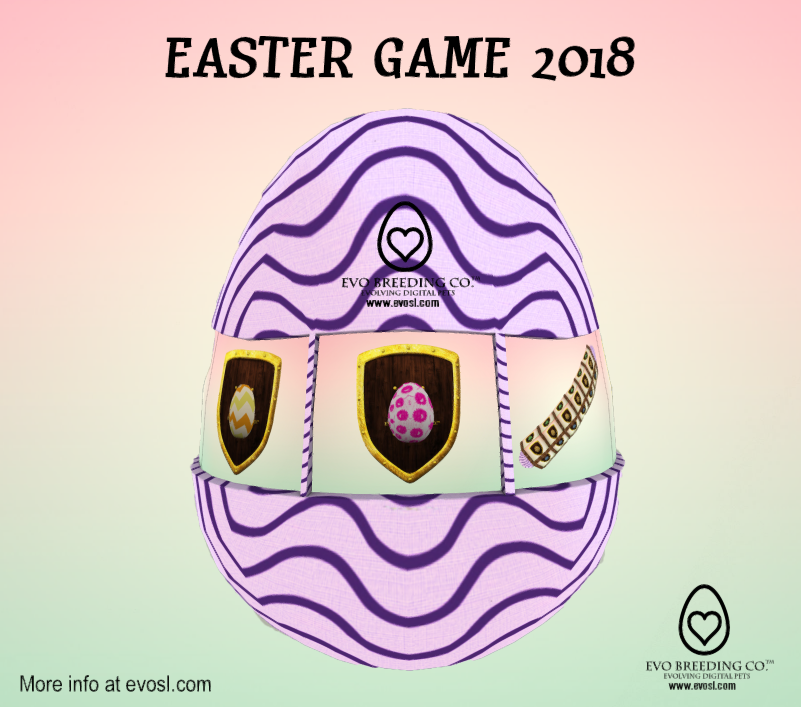 Here we are again with yet another fun game!
A strange egg just appeared at the Mainstore, and quickly spread as a virus through all the hub locations.... What could it be? A fun game, and a cool way to get some Easter prizes;
You will find this egg around the EVO locations. Here is some USEFUL INFORMATION about this game:
How to play?
Only thing you need to play and receive prizes is:
Click the egg;
A menu will popout with a couple options;
Click one of the colour options or the cryptex's;
What will happen next?
After you placed your bet you just need to wait for the Egg Cryptex to pick the winners, if you guessed right, you will get a prize!
Can i play with friends?
YES, definitely! Everybody can have a go at it. Just click the egg, he won't bite you; :D
What's in the prizes?
When you win, you get a Egg Pack of the colour of your winner bet, or one of the Cryptex's
Different packs:
EVO*MC - Easter Gold Pack Ver.2018
EVO*MC - Easter Blue Pack Ver.2018
EVO*MC - Easter Yellow Pack Ver.2018
EVO*MC - Easter Pink Pack Ver.2018
EVO*MC - Easter Green Pack Ver.2018
EVO*MC - Easter Purple Pack Ver.2018
The packs contain 3 collectible eggs of the colour of the pack, and 1 bonus of another colour;
What will i get by playing this game?
2 New Cryptex's, that after they are unlocked will give their respective prize; Those will open on the 1st of April and each one will have a special Easter Fae;
Can i get eggs somewhere else?
Yes, the eggs will also be on the Hubs Hunt Seal during the next week, and also a selection of these new eggs collectibles will be available on the Wanding Game;
I don't know what a Cryptex is...what should i do?
Check the
Cryptex Info Page
For how long will the Game be around?
These will be available at the Hubs and Mainstore until the 7th of April!
Are these items temporary?
No.
If you have any further questions or need help, please contact:
Lu Scorpio
EVO*MC Fairies Manager, Designer and Support