EVO Live Statistics
Pet Population in SL: 908655
---
Gacha B + Crystal Faes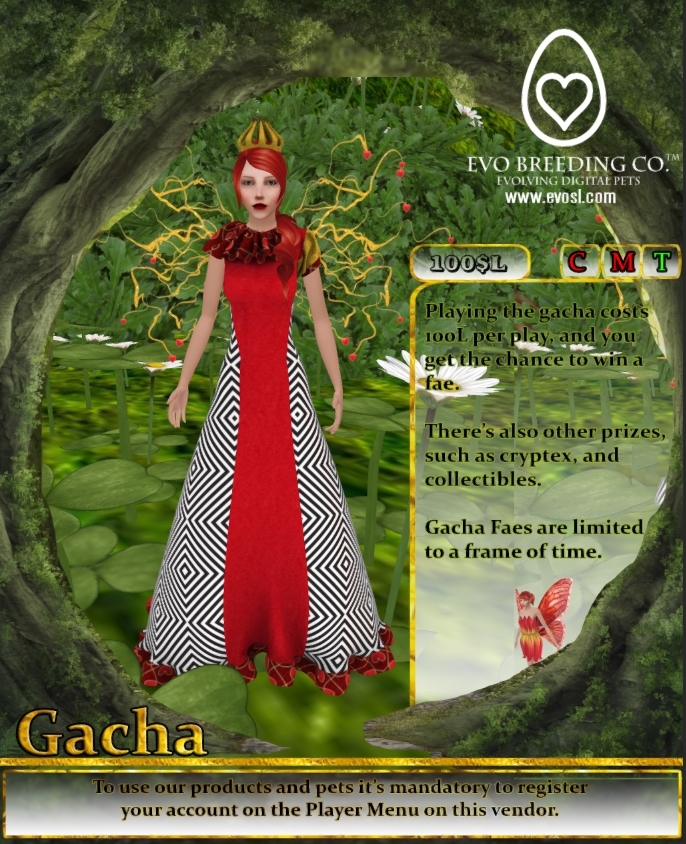 She is the mighty Queen of Hearts!
New Queen on the Gacha, she will give you Heart Crowns!
Be careful, if you rezz more than one Queen per Ysra they will fight each other to death;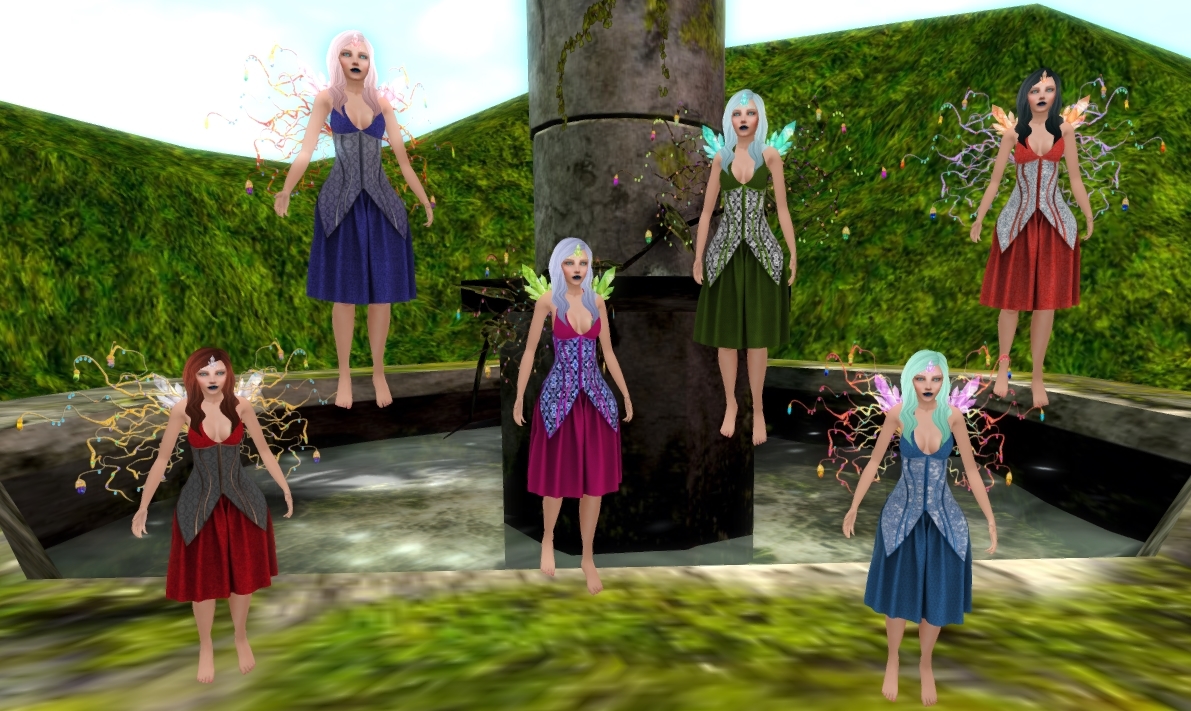 There's also a new set of Crystal Faes, you can find them, as always on the Crystal Kits;
Rita
25th May
---
Gacha A - Best Mom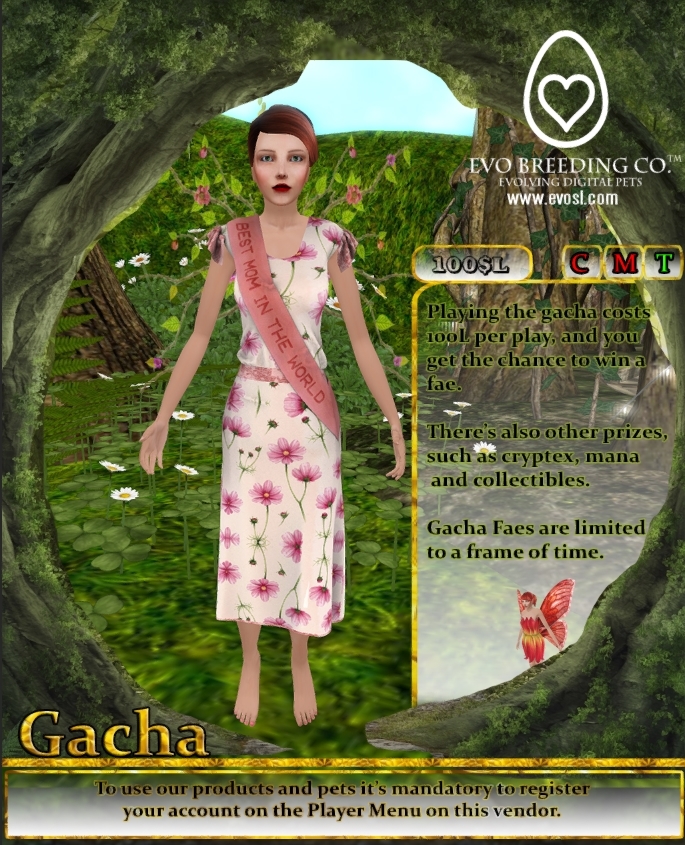 Best Mom is out on the magic world of Gacha; I wish you all mommies out there an awesome Mother's Day;
She is a Mythical Mom, and she will summon the new Sylvan Eggs!!!
The New Sylvan Faes are already out on the servers too!
They can come out of U-Rare Eggs;
11th May
---
Gacha B + Dark Unicorn Cryptex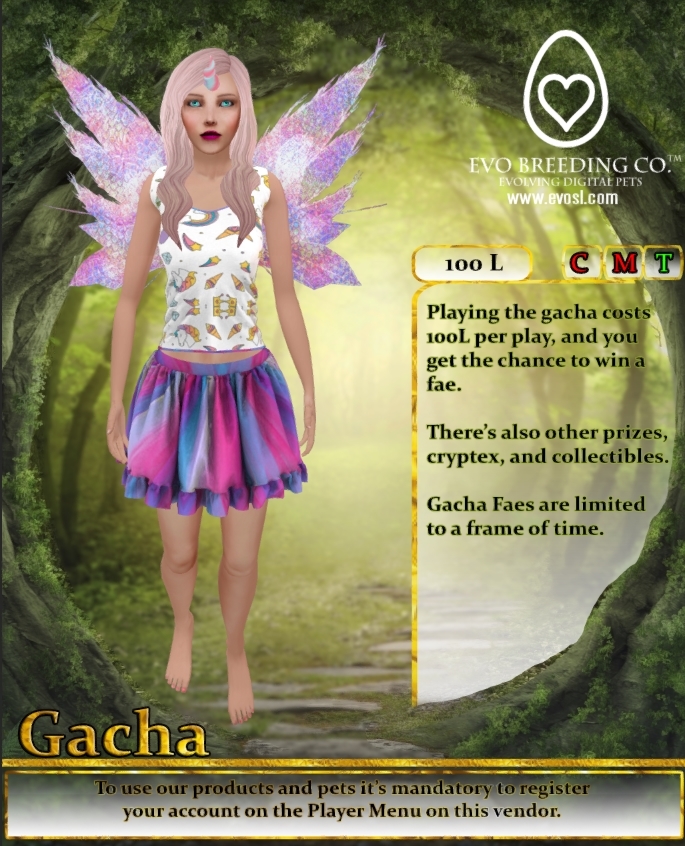 Unicorn'Tay is out on the magic world of Gacha;
There's also a new Cryptex on the Gacha Prizes which will give the Unicorn'Dark Fae;
Are you going dark or light side? :D
Check the Cryptex Info page to know where and how you can find and play the different Cryptex coming out;
4th May
---
April Locked Orbs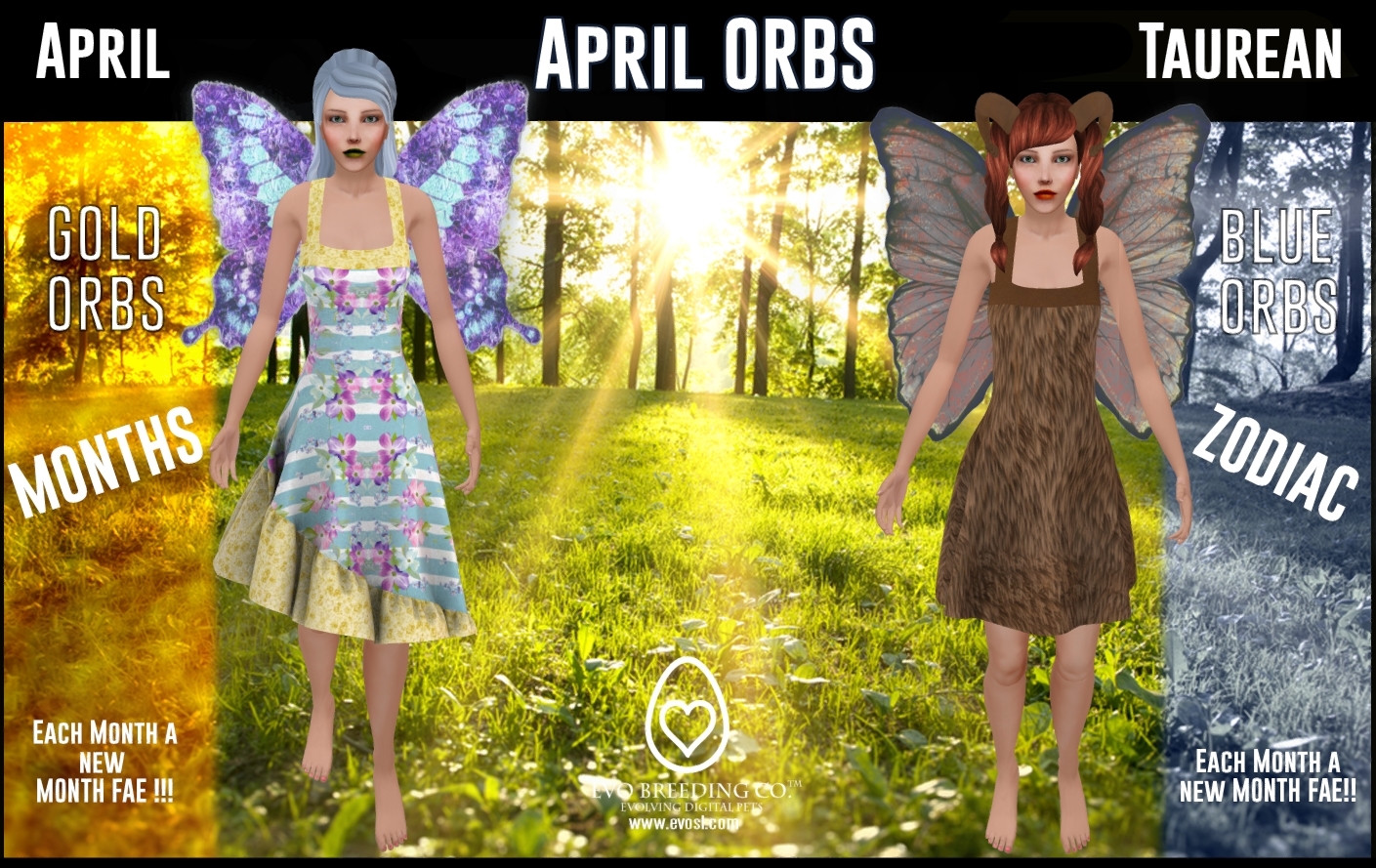 I present you our new Locked Orb Faes.
Golden Orbs - April Fae
Blue Orbs - Taurean Fae
Rita
23th April
---
New Card Came coming up to EVO
Coup de Grace - Card Game
You are one of the Heirs to the Throne. You need to manipulate, bluff and bribe your way to power. Your objective is to destroy the influence of all the other heirs, forcing them into exile. Only one heir will survive...
---
Gacha A - Unlucky Fae + Lucky Cryptex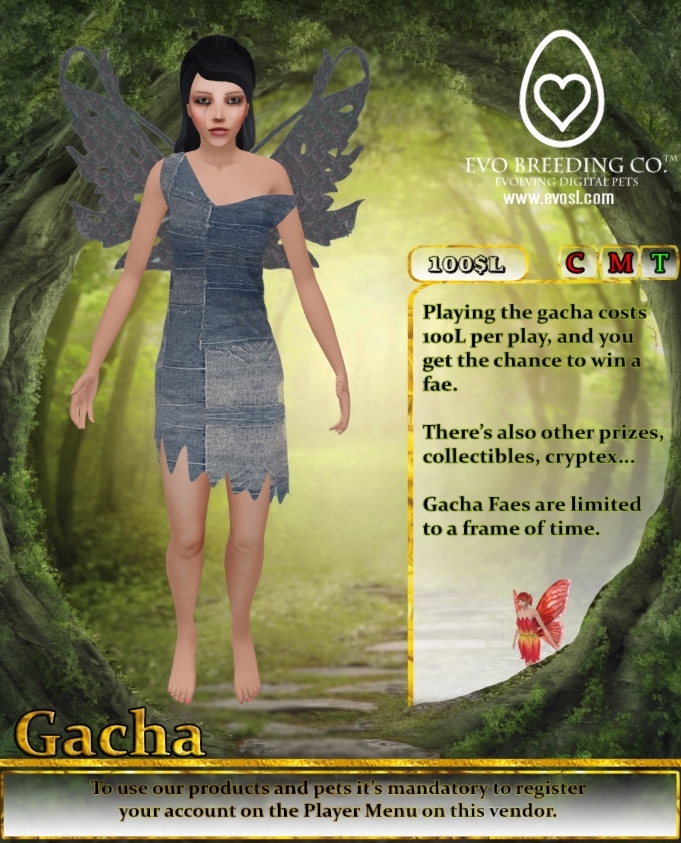 I heard tomorrow is Friday 13th! Is that it? Are you feeling lucky? Or unlucky???
Sometimes, in order to be lucky you need to feel unlucky...
Unlucky Fae on Gacha A and somewhere on the gacha a new Cryptex...he's the lucky one in this story...
Check the Cryptex Info page to know where and how you can find and play the different Cryptex coming out;
---
Easter Game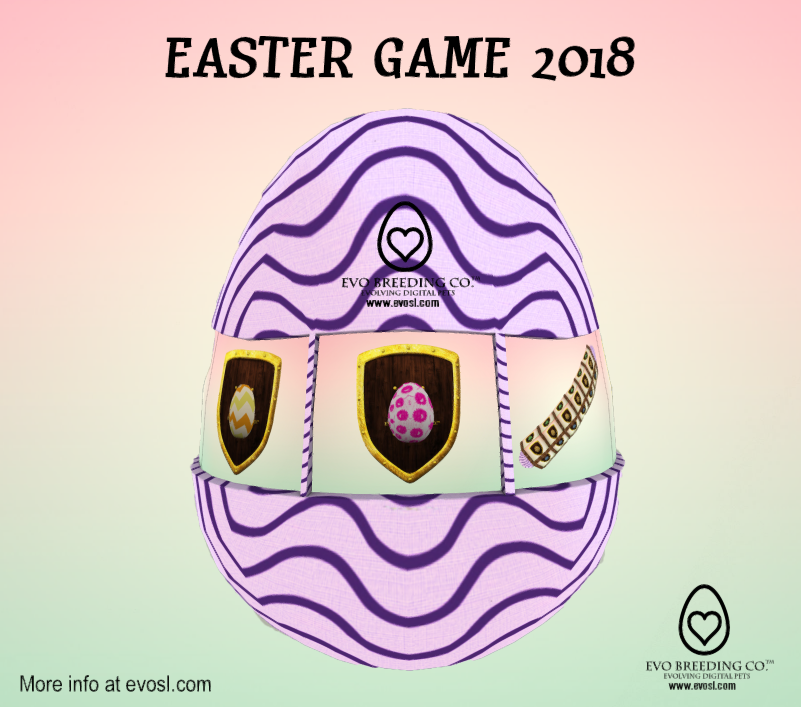 Curious? To know more about our Easter Game click the image.
---
New Gacha B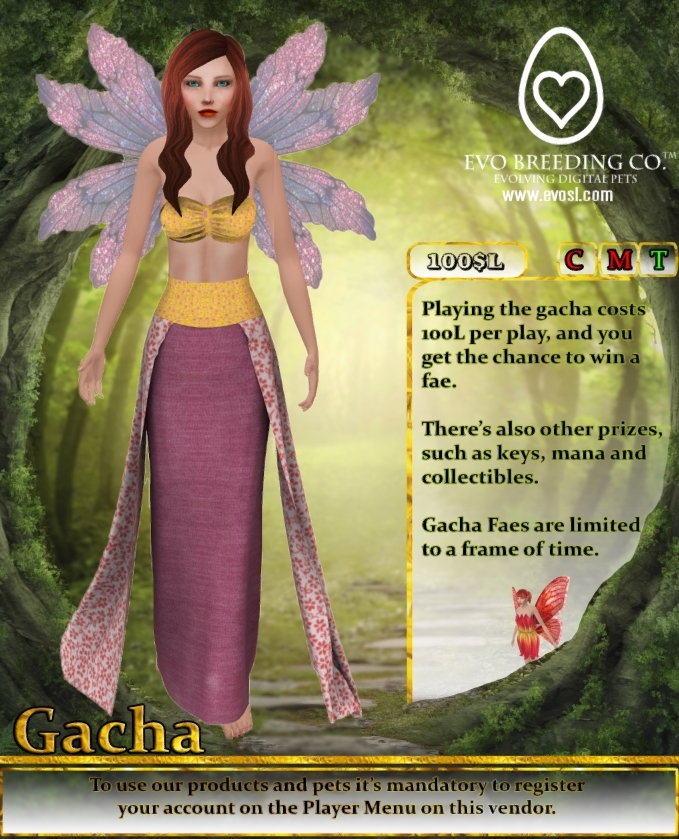 Welcome Spring Muse, she is the new adition to the Gachas;
Also on the gachas a new Cryptex was added, this time it's a Gem Cryptex;
Check the Cryptex Info page to know where and how you can find and play the different Cryptex coming out;
---
March Orb Faes are OUT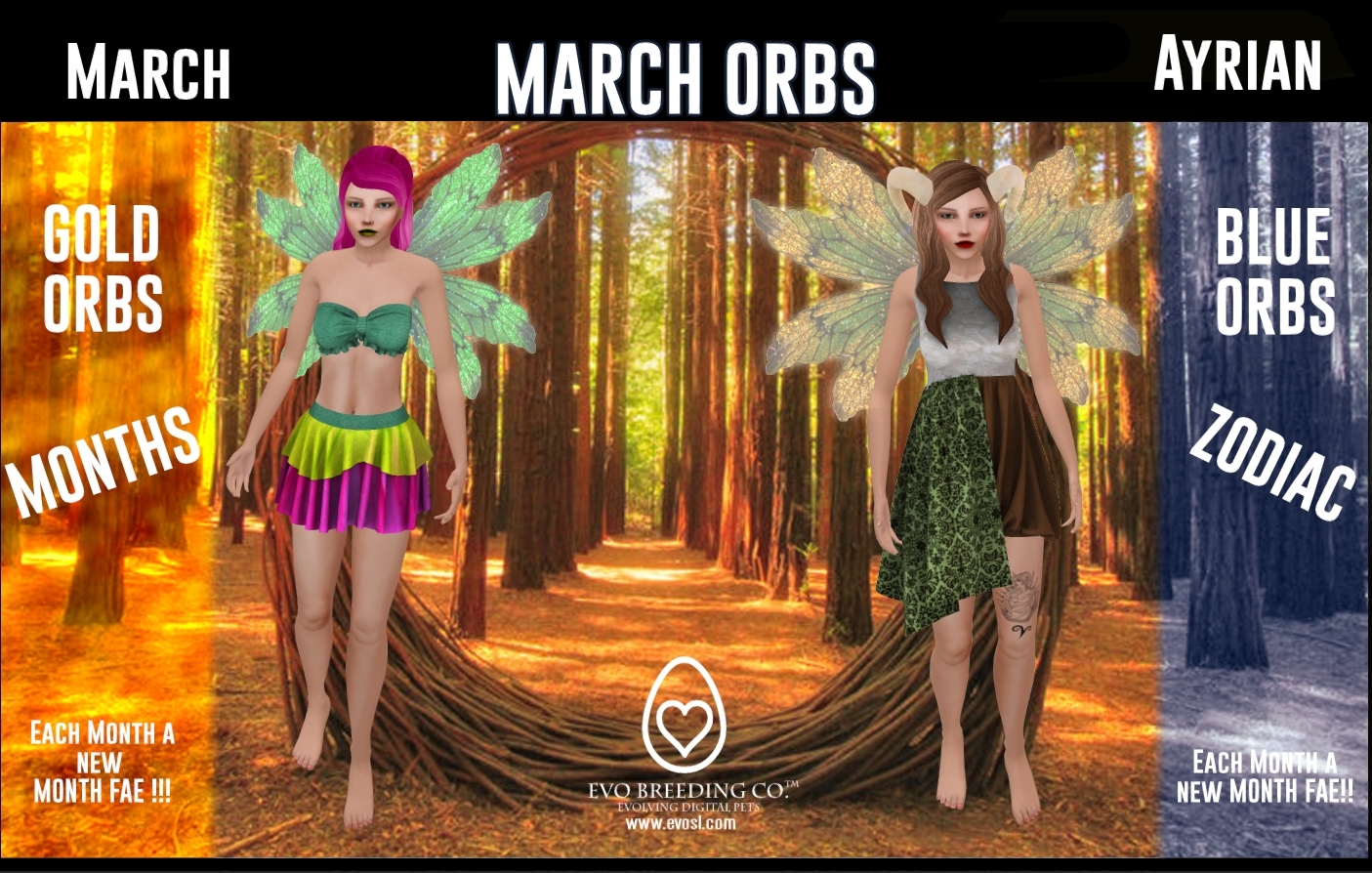 March and Zodiac Ayrian
Are officially out! Do you fancy these spring beauties?
Check the Gold and Blue Orbs
---
New Gacha A Fae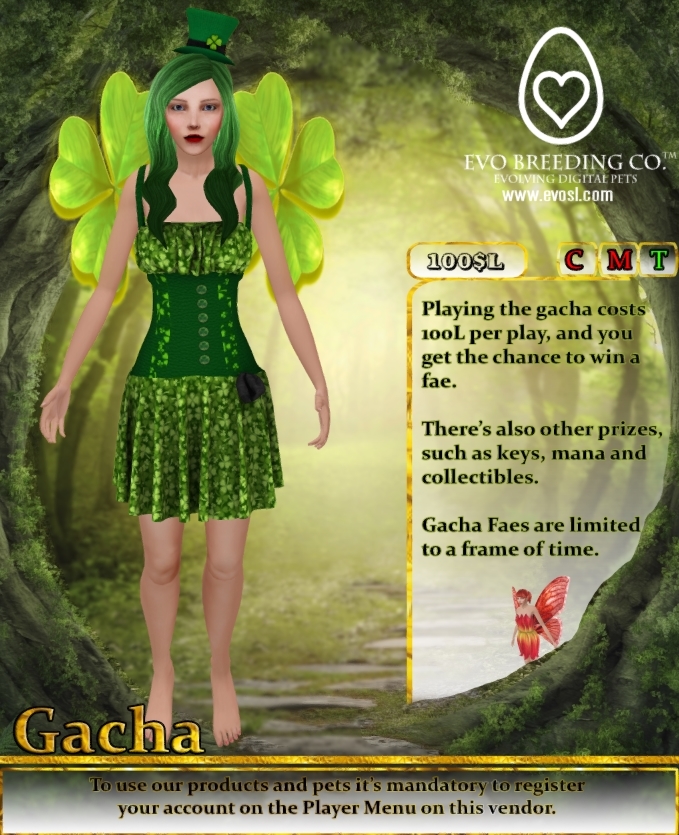 New Fae out!!! Good Luck to all, with a bunch of Cloves and Shamrocks and Trefoils;
ALSO, there are a couple new prizes added to the Gachas, have you ever heard of something called CRYPTEX!!!
They're back!!!
Please check the message below, for more info about the NEW Cryptex;
Please check how to play them!
Have Fun
Rita
16th March
---
Crystal Cryptex Game
Click the image for more info on the Cryptex Game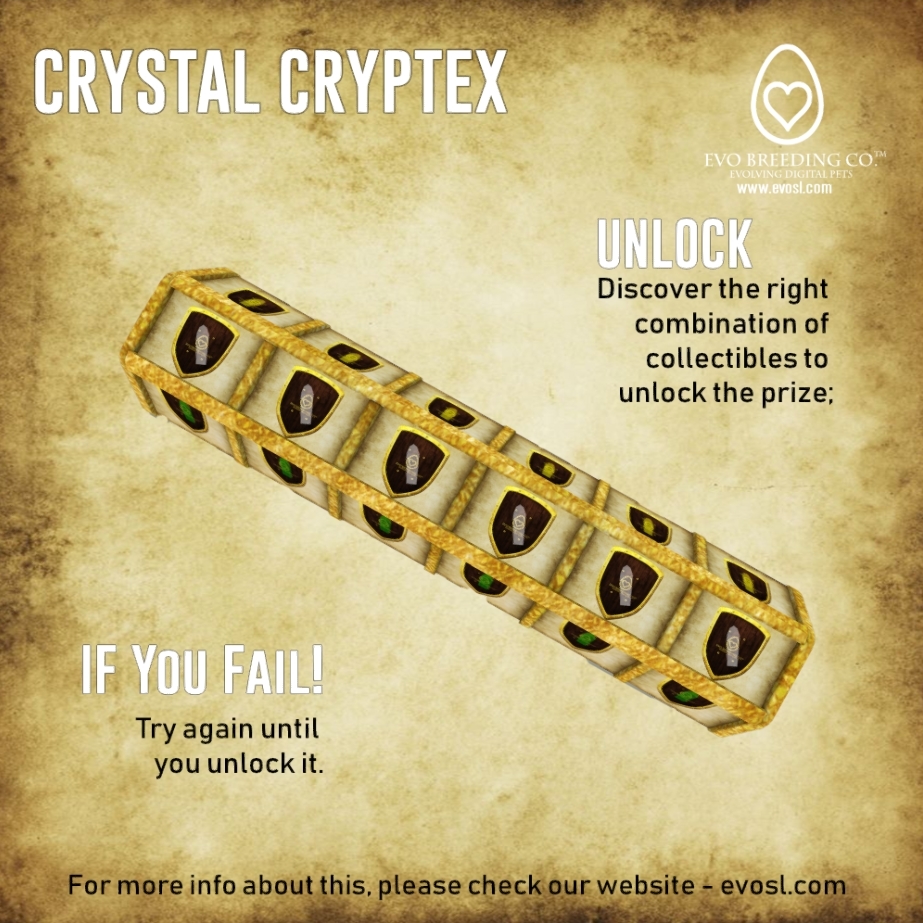 The new Cryptex can be found on the Gachas;
Please take a close look at our info page about the Crystal Cryptex, the gameplay is slightly different;
Click the image to check the info;
Rita
16th March
---
Magic Crystal Kit Update - March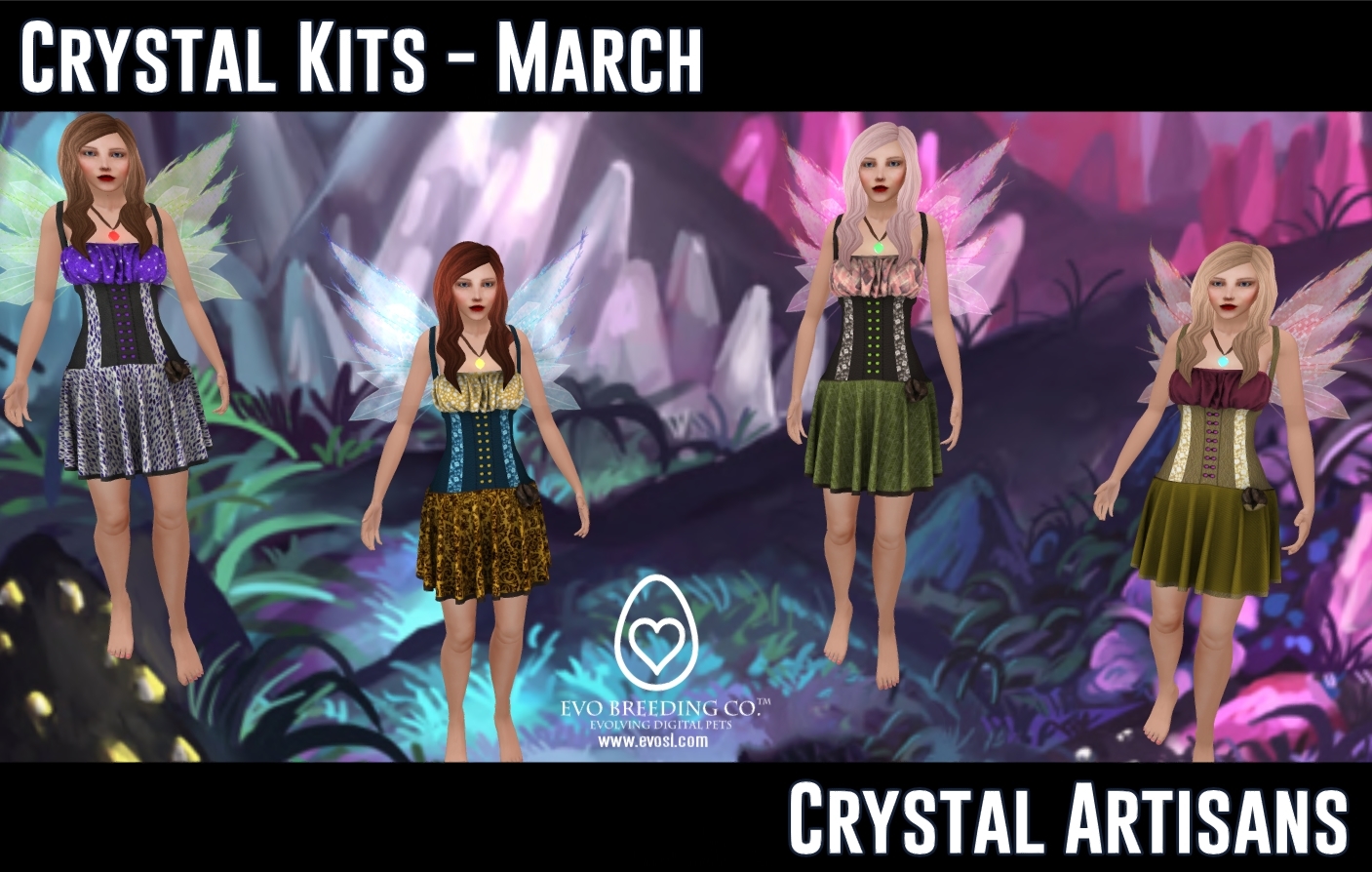 Some new Crystal babes :D
They will craft you the so much desired crystals for your recipes;
Greens and Blues too :p
14/03/2018
---
Gathering Event 2018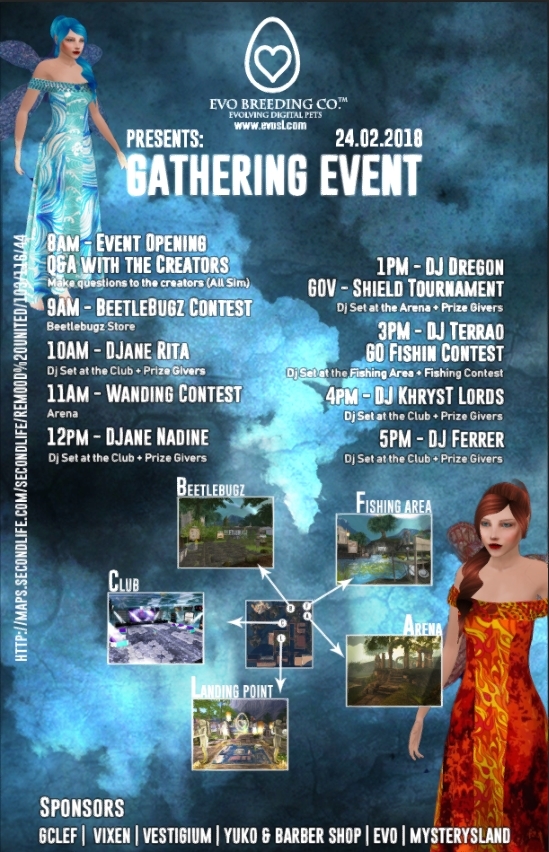 Join us for a great party and alot of games and prizes!
Click the names on the Map to Teleport to the selected area!
---
February Orbs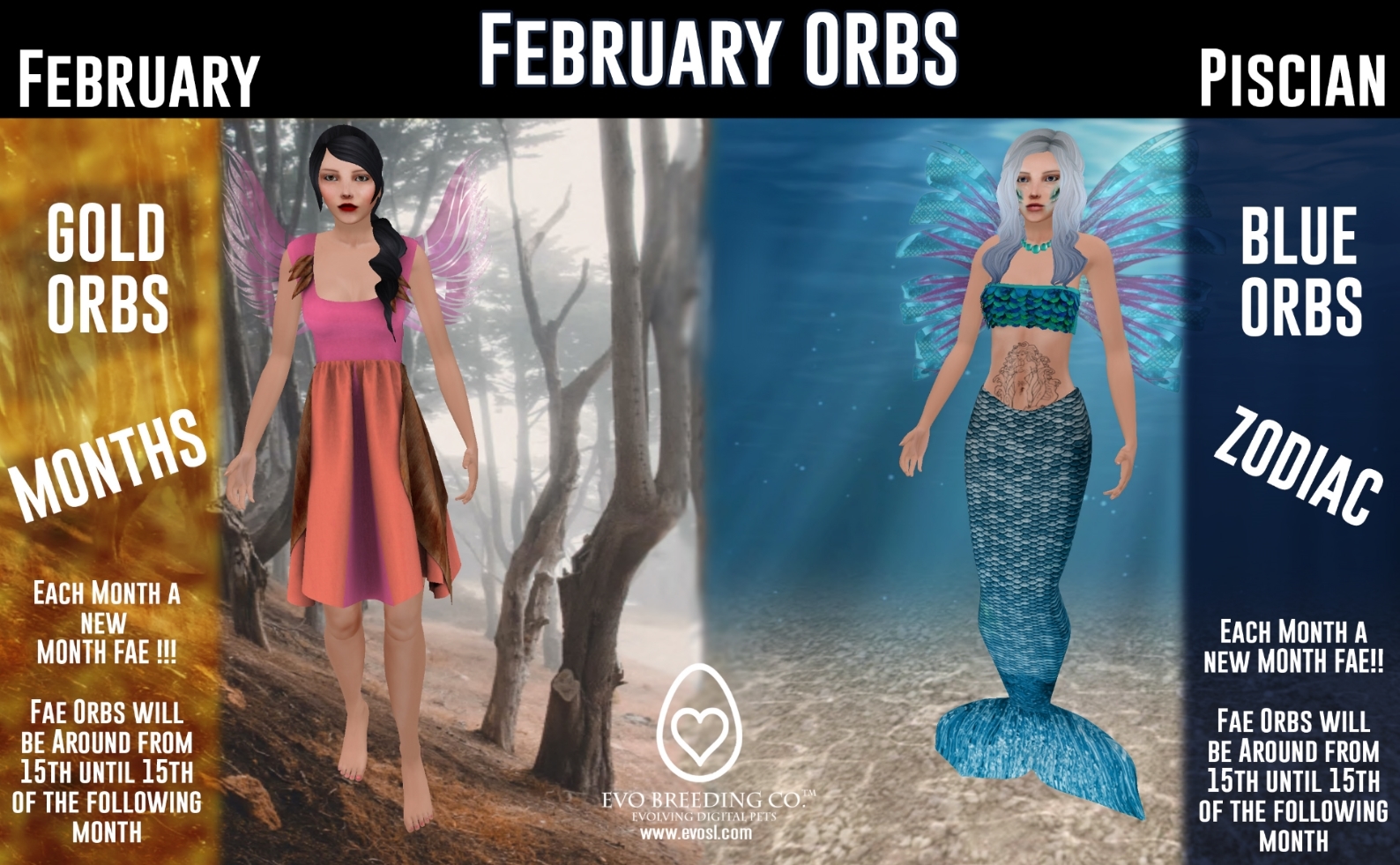 So this month we have our dear Piscian Zodiac fae on Blue Orbs and our sweet month of February on the Golden Orbs!
They both give Winter Leafs, since unfortunately, at least in Portugal, is still Winter.
16th February
Rita,
EVO Team
---
New Gacha Fae - Valentines

Valentines Day is around the corner, so here it is the cutie Valentine Cupid!!!
Have Fun
Rita
EVO Team
09/02/2018
---
New Gacha Fae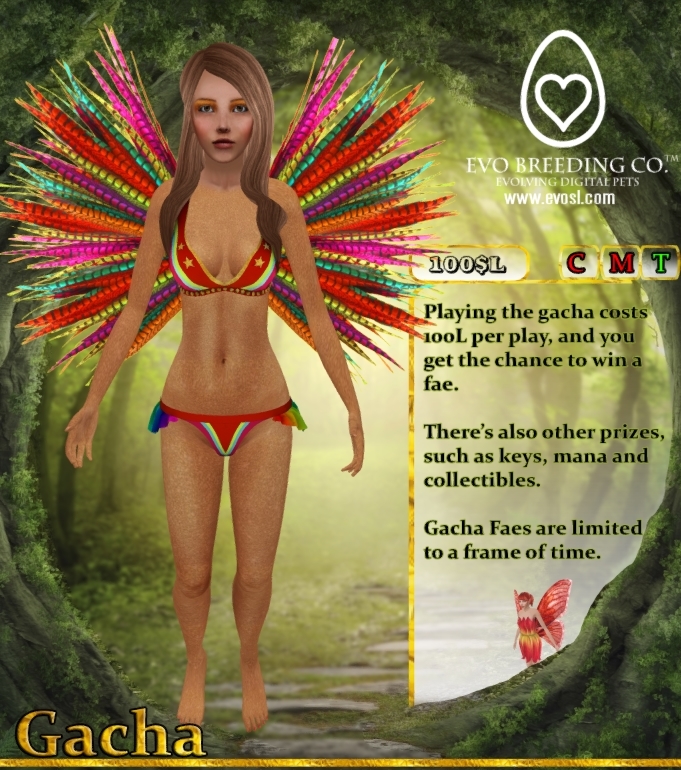 All the gachas have been set on Hub Locations;
The packaging of the prizes is shiny and brand new, also the prizes have been all redone, and you will find alot of the so wanted collectibles.
As for the new Samba Dancer, the commemorative fae of Carnival will award Green Crystals, as so many people have been requesting them;
Hope you enjoy!!
Rita,
EVO Team
08/02/2018
---
EVO - eSpheres Release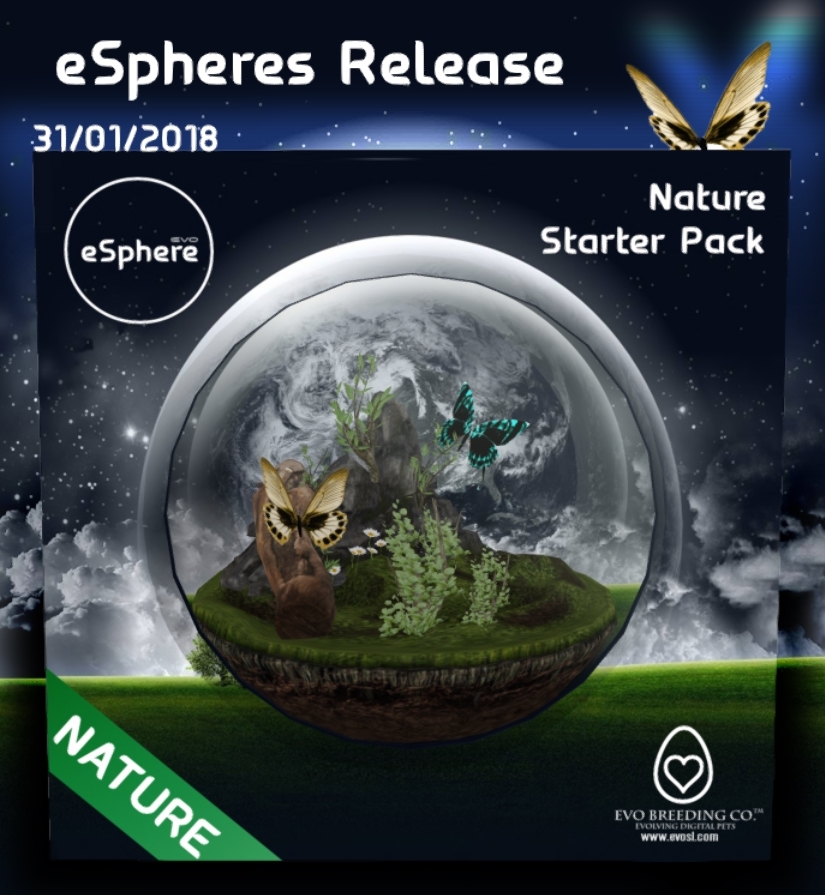 The former SeaSpheres are now known as eSpheres!
There's a lot of options for you to discover.
They are officially out at Mainstore;
Click the image to get more info about them!
---
Magic Crystal Kit Update - January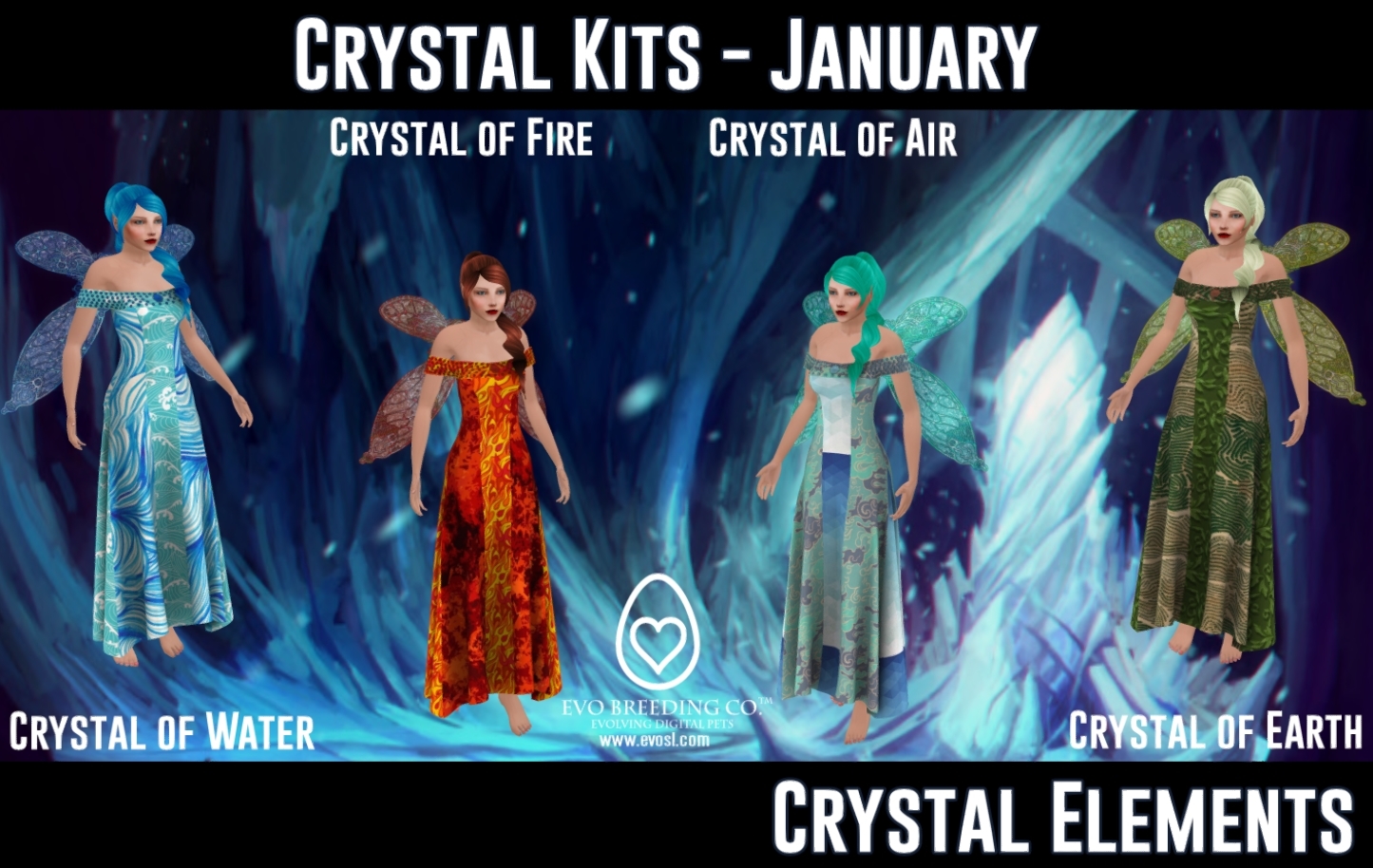 Crystal Elements for the month of January!
Hope you enjoy them!
23th January.
Rita,
EVO Team
---
January is here...
And with a new year, a fresh start...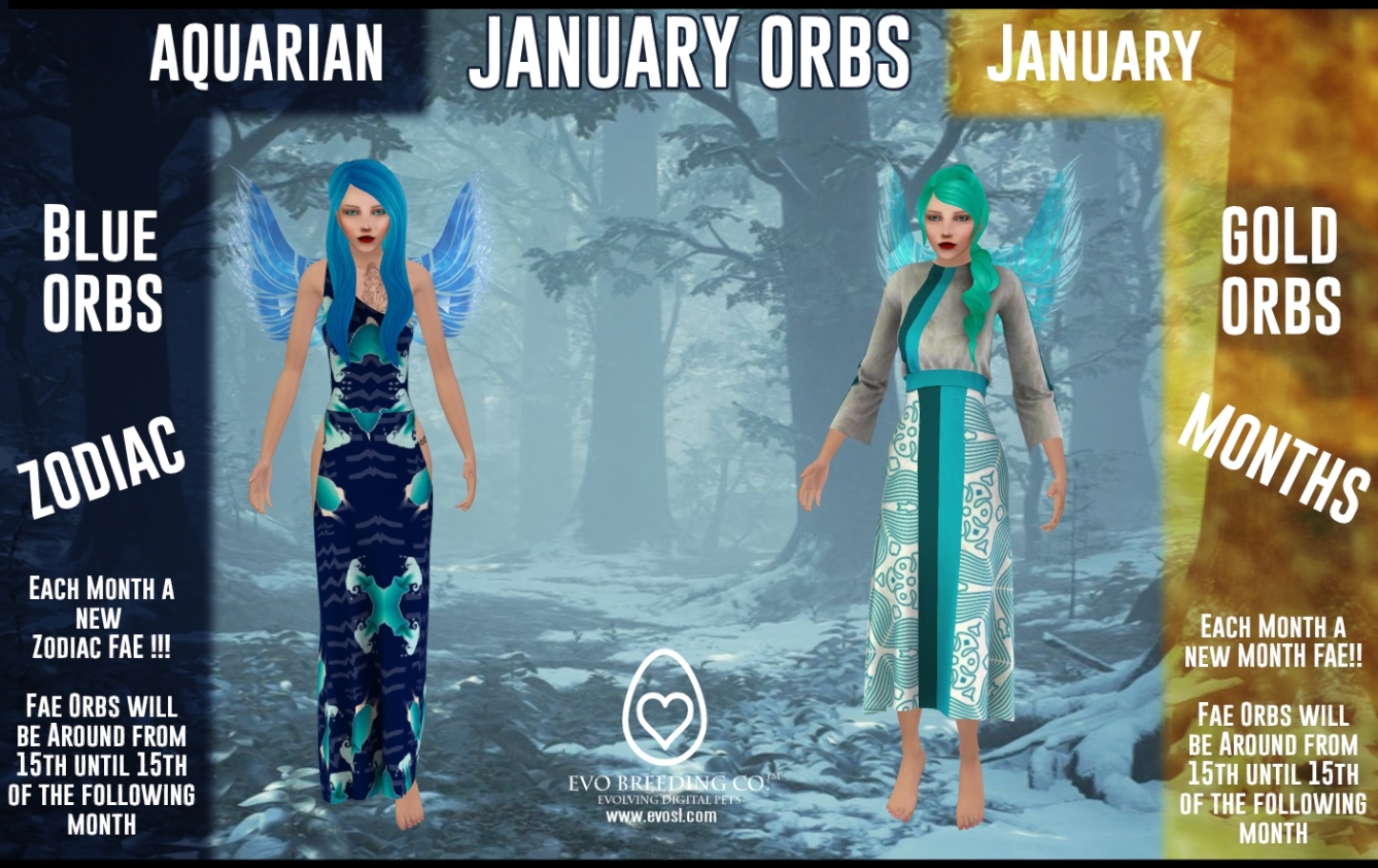 The Orbs have been loaded with new Faes.
This year the theme for the Blue orbs is Zodiac, and for the Gold Orbs is the Months!
We start with Aquarian on the BLUE Orbs and January on the GOLD Orbs; The faes will be removed around the 15th of each month; More stuff coming soon, keep tuned.
16th January.
Rita,
EVO Team
---
How to Register your EVO Breeder Account?
In our Inworld Vendors on Mainstore or the Hubstores you can find the "Player Menu" button, touch it to access Register, Support and other important information related to our Products. Attention to the name that is displayed in your Register Application, thats your real SL Name, use it as you see to login in the webpage.
Can i keep Fairies without registering?
No, if you want to keep breeding and receiving their prizes, registration is mandatory!!!
---
Yukas, The Cutest Mammoth Alive
EVO Group brings you the Brand New Yuka!! A cute little Mammoth that brings fresh features to breedables. Scripted by EVO, Yukas are aimed to be strong and safe coded, having considered SL and sims random issues. YUKAS PAGE
---
Broken City Walls can now be Upgraded with Building Collectibles
If you dont see an "Upgrade" Button on your Broken City Walls, please touch the "Update" Button and update your Broken City Walls so they can be Upgraded with Building Collectibles.
Broken City Walls (Level 1)
How it works?
The Broken City Walls can now be upgrade with 2 steps, first your upgrade it to Recovering City Walls, and then to Defence City Walls with Golden Pearls, Iron, Fools Gold and Stone Collectibles.
Its works similar to the Recipes, so touch the item and read the info that is provided for more details. But as rule, enable the Upgrade Mode on the City Walls then rezz and touch the collectibles it asks untill its filled. You will receive a the upgrade City Walls from the server and the old one will delete itself.
Recovering City Walls (Level 2)
What the Defence City Walls do?
Defence City Walls (Level 3)
The Defence City walls is the working version of the City Walls Object, with it your City will have a working Weather System that will make crops and gardens buildings florish (New additions to the Cities will be revealed soon) along with that we have added the City Walls to count as Defence System so Warroirs Faes can be counted and used to boost your defence in the Guardians of Valkyra Game and other mini games we release for the fairies.